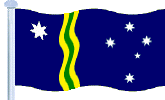 Welcome to "A New Flag for Australia". This site aims to promote a new design for the Australian National Flag. Here, you will find details of my design for the flag, the history of the current flag, as well as information on the Australian flag debate.








Last Updated 26 January 2000
This site and contents - © Dylan Crawfoot 1999-2000

26 January - Photograph added to New Design section


You are visitor number since January 1999.